Association for the International Development of
Academic and Scientific Collaboration - AIDASCO
Talent wins games, but teamwork and intelligence win championships
News from EEM 2023
The Organizing Committee of the 8th International Congress Engineering, Environment and Materials in Process Industry-EEM2023 is pleased to inform you about the following important dates:
Congress dates: March 20th-23rd, 2023
Deadline for abstract submission and registration: January 31st, 2023
Deadline for full paper submission: May 1st, 2023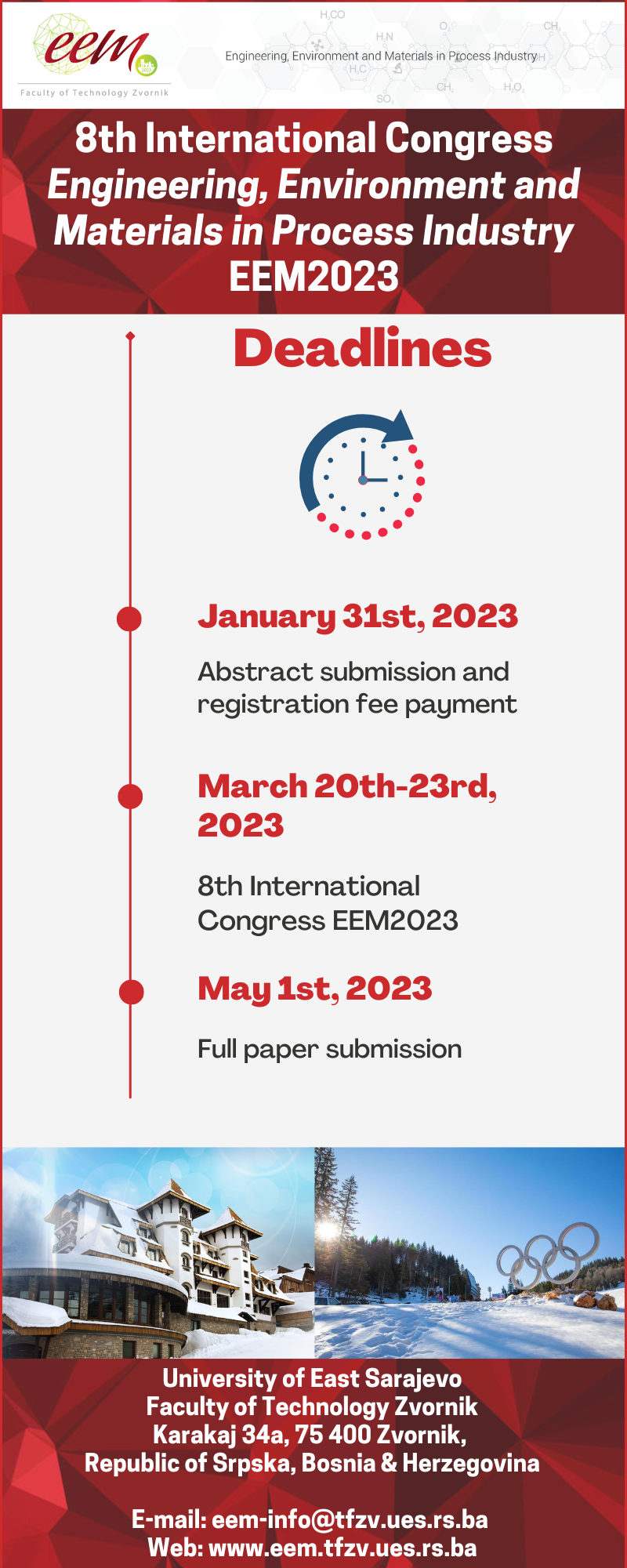 The EEM2023 is dedicated to the promotion of research in the field of chemical engineering and technology, food engineering, environmental engineering, materials, chemistry, and biochemistry and is a great opportunity for networking.
Topics of interest include:
1. Chemical and Electrochemical Engineering
2. Food Engineering and Biotechnology
3. Environmental Engineering
4. Materials and Material Characterization
5. Nanotechnology
6. Inorganic Chemistry and Technology
7. Organic Chemistry and Technology, Polymers
8. Plasma Technology
9. Energy Efficiency and Renewable Energy Sources
10. Textile Engineering
11. Corrosion and Protection of Materials and Thermal Power Plants
12. Metallurgy
13. Management in the Process Industry
14. General Sections
For abstract/paper submission, registration and all general requirements please contact us at eem-info@tfzv.ues.rs.ba or www.eem.tfzv.ues.rs.ba.
For accommodation and registration fee payment arrangements please contact HAPPY TRAVEL, the technical organizer of EEM2023, at sanja@happytravelbn.com.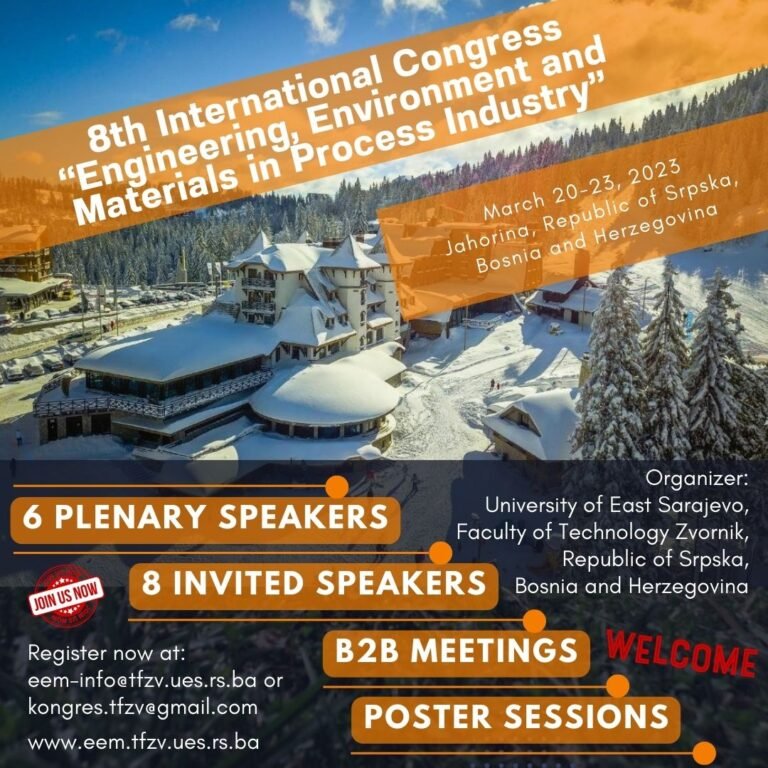 Welcome to 8th Engineering, Environment and Materials in Process Industry Conference
It is our immense pleasure to announce the participation of AIDASCO at the 8th international conference "Engineering, Environment and Materials in Process Industry" (EEM). EEM is one of the most important scientific events in this region, traditionally organized by the Faculty of Technology Zvornik, University of East Sarajevo, Bosnia and Herzegovina, at the famous Jahorina ski resort. 
AIDASCO will be one of the official sponsors of this important event.
Stay tuned, more news is coming soon.